Episode 485:
The Hands, the Handpiece...or a Little of Both?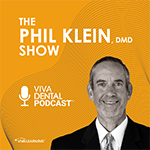 Supporter: DENTALEZ
CE Credits: 0.25 CEU
Dental podcast: We can all agree that the dental handpiece is the workhorse of our practice. We need it to perform reliably, day after day. So today we're going to get deeper into why having the right kind of handpiece is so critical to a smooth running practice and to achieve predictable clinical results. Our guest is Dr. Chad Duplantis, who maintains a small group private practice in Fort Worth, TX, focusing on aesthetic and restorative dentistry. Dr. Duplantis is an author, a lecturer, and a key opinion leader in dentistry. His interests are mainly in digital, implant, and restorative dentistry. In 2020, Dr. Duplantis co-founded the Facebook Group Dentists IN the Know, which is designed to keep the dental industry well-informed.
Podcast Exam
Please
Log in
to take exam and earn CE credit.
More Podcast Episodes You Might Like