Episode:
The Next Generation CCLAD (Computer-controlled Local Anesthetic Delivery)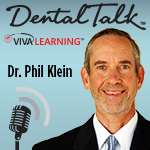 Dental podcast hosted by Dr. Phil Klein: This dental podcast discusses Dentapen, the next generation computer-controlled local anesthetic delivery system, commonly referred to as CCLAD. Our guest is Dr. Robert M Peskin, a general dentist and dentist anesthesiologist in the state of New York. He is a Clinical Associate Professor at the School of Dental Medicine at Stony Brook, and is an Assistant Attending in the Department of Dental Medicine at Long Island Jewish Medical Center. He is a recognized lecturer throughout North America and continues to speak on a variety of topics related to anxiety and pain control.
Podcast Exam
Please
Log in
to take exam and earn CE credit.
More Podcast Episodes You Might Like