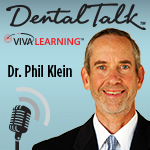 Supporter: Sunstar Welcome to the Sunstar series of VivaPodcasts. Top KOLs will address clinical techniques, new products and the latest research and development at Sunstar.
---
Episodes from this Supporter: (2)
Xerostommia: The Scoop on Dry Mouth
CE Credits: 0.25 CEU
Release Date: 11/6/2020
Dental podcast hosted by Dr. Phil Klein: Welcome to DentalTalk, this is Dr Phil Klein. Today we'll be discussing the causes of xerostomia and how to diagnose salivary gland hypofunction as well as how to conduct a salivary flow measurement exam. We will also review the differences between hyposalivation and xerostomia and the appropriate management considerations. Our guest is Dr. Lauren Levi, a dental oncologist and an orofacial pain focused dentist based in New York with extensive experience treating a variety of oral medicine conditions. She is an adjunct clinical assistant professor at NYU College of Dentistry in the department of oral medicine and orofacial pain. She is also a clinical instructor and dental oncology attending at the Icahn School of Medicine at Mount Sinai.
Have you heard about Rincinol? It's the benzocaine-free game changer!
CE Credits: 0 CEU
Release Date: 10/5/2019
Dental podcast hosted by Dr. Phil Klein: This Viva Podcast will discuss Rincinol and its benefits to your patients. Our guest is Edie Gibson, RDH, MS. She is a lecturer for Misch Implant Institute, Educator for Straumann, Registered Psychotherapist and a best-selling author. She brings over 3 decades of diverse, hands-on clinical and business expertise in dentistry to the podium.