Episode 311:
Bonding vs Luting: What's the difference and why does it matter?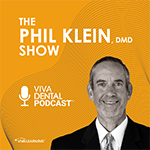 Supporter: Bisco
CE Credits: 0.25 CEU
Dental podcast: Welcome to DentalTalk. I'm Dr. Phil Klein. Today we'll be discussing the difference between bonding and luting and the materials used for each of these procedures. Our guest is Dr. Alex Vasserman, a cosmetic dentist who practices minimally invasive painless dentistry in the Upper East Side of New York City. He is an active member of several dental associations, including The American Academy of Cosmetic Dentistry and Kois Trained Dentist.
Podcast Exam
Please
Log in
to take exam and earn CE credit.
More Podcast Episodes You Might Like