Episode:
Conservative Treatment of Geriatric Patients with Worn Dentition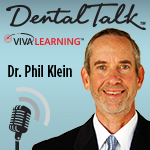 Dental podcast: Welcome to DentalTalk. I'm Dr. Phil Klein. The fastest growing age group today is 80 and over. Geriatric dentistry is a reality and could very well be a hidden production area in the practice. Today we'll be discussing conservative treatment of the anterior worn dentition with incisal abfractions and exposed dentin, typical conditions of our aging patients. Our guest is Dr. Arthur (Tony) Tomaro, a member of Catapult Education Speakers Bureau and presently practices in Chicago IL. He has dedicated his entire career to the advancement of dental education and has published numerous articles in national and international publications.
Podcast Exam
Please
Log in
to take exam and earn CE credit.
More Podcast Episodes You Might Like