Episode 424:
Are You Taking Enough Intraoral Photos? Why They're Essential to Your Practice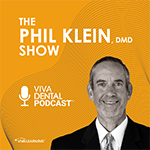 Dental podcast: Welcome to DentalTalk. I'm Dr. Phil Klein. Today we'll be discussing fixed focus intraoral cameras and the value-add to your practice. Our guest is Dr. Chad Duplantis, a practicing dentist in Fort Worth, TX, who focuses on aesthetic and restorative dentistry. Dr. Duplantis is an author, lecturer, and popular speaker on the topics of restorative and esthetic dentistry.
Podcast Exam
Please
Log in
to take exam and earn CE credit.
More Podcast Episodes You Might Like