Episode 343:
Bringing in the New and I'm Glad I Did!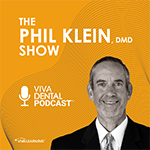 Dental podcast: Welcome to DentalTalk. I'm Dr. Phil Klein. Today we'll be discussing the daunting challenge of integrating new products or systems into a well-run practice. Our guest, Dr. Jennifer Bell, she'll share with us how she has successfully incorporated new restorative materials and products into her practice successfully over the past 12 months and going strong. Dr. Bell received both of her degrees from UNC Chapel Hill and has volunteered for Missions of Mercy, providing dental care throughout the state to those in need. She is currently the Immediate Past President of the North Carolina Academy of General Dentistry (NCAGD).
Podcast Exam
Please
Log in
to take exam and earn CE credit.
More Podcast Episodes You Might Like