Episode 115:
Finishing and Polishing the Tooth Surface After Removal of Clear Aligner Attachments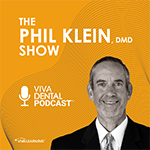 Dental podcast hosted by Dr. Phil Klein: This Viva Podcast will discuss the finishing and polishing of the tooth surface after safe removal of clear aligner attachments. Our guest is Dr. Payam Ataii, an award-winning graduate of Tufts Dental School who has treated more than a thousand patients with clear aligner systems at his private practice in Laguna Hills, California. Dr. Ataii holds both national and international peer-reviewed awards. He is a regular content contributor for dental publications, the mainstream press and television.
Podcast Exam
Please
Log in
to take exam and earn CE credit.
More Podcast Episodes You Might Like