Episode 173:
Bioactive Flowable Restorative with Versatility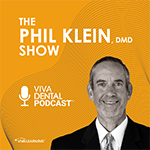 Dental podcast hosted by Dr. Phil Klein: This Viva Podcast will discuss bioactive flowable restoratives and their versatility with direct restorative procedures. Our guest is Dr. Jack Griffin, who runs a practice in St Louis County and has a unique educational philosophy that focuses on improving clinical and financial outcomes while making practice more fun and rewarding.
Podcast Exam
Please
Log in
to take exam and earn CE credit.
More Podcast Episodes You Might Like