Episode 363:
Air Polishing: An Effective Method to Improve Optimal Patient Care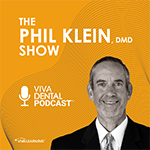 Dental podcast: Welcome to DentalTalk. I'm Dr. Phil Klein. Today we'll be discussing Air Polishing, which by the way has been around since the 70's. Utilizing a slurry of air, water and a non-abrasive powder it's used to remove dental plaque biofilm and stains. While it delivers benefits to the patient it also offers a time saving and ergonomic solution to the practitioner. To tell us more about it is our guest Dr. Sheri Doniger. Dr Doniger is a dental clinician, author, international educator, and consultant who currently practices dentistry in Lincolnwood, IL.
Podcast Exam
Please
Log in
to take exam and earn CE credit.
More Podcast Episodes You Might Like