Episode 407:
Surgical Advancements in Dental Handpieces: A Clinician's Perspective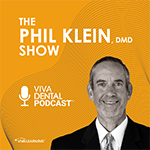 Dental podcast: Welcome to DentalTalk. I'm Dr. Phil Klein. Today we'll be discussing surgical advancements by way of new handpiece technology from a clinician's perspective. Our guest is Dr. Sam Shamardi, who practices full-time while teaching part-time at the Harvard Division of Periodontics. He lectures nationally and internationally on topics within periodontics and hearing loss in dentistry and has published multiple articles in a variety of dental publications.
Podcast Exam
Please
Log in
to take exam and earn CE credit.
More Podcast Episodes You Might Like