Episode 162:
Incorporating the Benefits of Electric Handpieces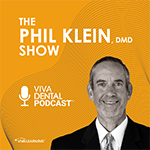 Dental podcast hosted by Dr. Phil Klein: This Viva Podcast will discuss a major breakthrough in electric handpiece design. Our guest is Dr. Lori Trost, who maintains a full time practice in Redbud, IL. Dr. Trost focuses on esthetic dentistry with a wellness approach to patient care. She lectures extensively throughout North America, is a clinical evaluator for many dental manufacturers, and translates her knowledge and experience into authoring a wide variety of professional articles.
Podcast Exam
Please
Log in
to take exam and earn CE credit.
More Podcast Episodes You Might Like