Episode 444:
CBCT: A Game Changer for Root Canal Therapy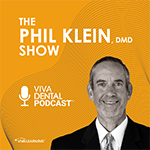 Dental podcast: Welcome to DentalTalk. I'm Dr. Phil Klein. Today we'll be discussing how CBCT helps to accurately diagnose patients and expedite their healing journey, especially when standard dental x-rays and the normal tests fall short. Our guest is Dr. Sonia Chopra, an Endodontist and Diplomate of the American Board of Endodontics. She earned her D.D.S. at the University of Maryland, and completed two residencies in Brooklyn, New York and Fort Lauderdale, Florida. 
Podcast Exam
Please
Log in
to take exam and earn CE credit.
More Podcast Episodes You Might Like