Episode 509:
Making the Leap: How to Set Yourself up for Best Outcomes with Scanning, Milling and Printing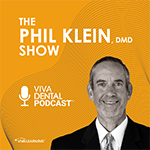 There are many benefits to transitioning from traditional impression-based indirect restorations to digitally scanned and fabricated crowns, bridges, onlays and veneers: Convenience for patients, increased productivity, increased accuracy and efficiency, and elevated patient experience which leads to increased referral rates. Shown to be true by many dental offices, modernizing your practice directly will increase your bottom line revenue. To tell us more about making the leap into digital dentistry is our guest Dr. Susan McMahon.
Podcast Exam
Please
Log in
to take exam and earn CE credit.
More Podcast Episodes You Might Like