Episode 478:
What Does it Really Take to Perform Efficient, High Quality Root Canal Therapy?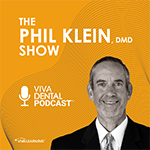 Dental podcast: Welcome to DentalTalk. I'm Dr. Phil Klein. When it comes to your root canal cases, increasing speed doesn't necessarily mean sacrificing safety or a favorable outcome. Today we'll be discussing research-based facts and the tools to use to make our root canal procedures faster and easier with predictable clinical outcomes. Our guest is Dr. Aaron Nicholas, who has been practicing dentistry for over 30 years and was picked as one of Washington's Top Dentists by Washingtonian Magazine and has been chosen every year as a "Top Doctor" by the Consumer Council of America since 2004.
Podcast Exam
Please
Log in
to take exam and earn CE credit.
More Podcast Episodes You Might Like