Episode:
Dry Mouth: What we need to know as dental professionals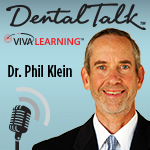 Supporter: Sunstar
CE Credits: 0.25 CEU
Dental podcast: Welcome to DentalTalk. I'm Dr Phil Klein. Well over 500 prescription and non-prescription medications have xerostomic side effects, commonly referred to as dry mouth. This is compounded when these medications are used concomitantly, as is often the case for our medically complex patients. To give us an overview of xerostomia, medications used in its management and the impact of both the disease and its treatment on dental therapy is Tom Viola. He's the founder of "Pharmacology Declassified", and is a board-certified pharmacist who also serves the profession of dentistry as a clinical educator, professional speaker and published author.
Podcast Exam
Please
Log in
to take exam and earn CE credit.
More Podcast Episodes You Might Like