Episode 375:
Techniques for Socket Preservation Graft and Maintenance of Keratinized Gingiva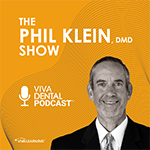 Dental podcast: Welcome to DentalTalk. I'm Dr. Phil Klein. Dental implant replacement of missing teeth requires both adequate hard and soft tissue for biologically-compatible aesthetic and functional results as well as longevity. Today we'll be discussing current techniques in extraction site socket preservation while optimizing the critically important soft tissue. Our guest is Dr. H. Ryan Kazemi, a board certified oral and maxillofacial surgeon. He is the founder and CEO of Kazemi Oral Surgery & Dental Implants and maintains a full time oral and maxillofacial surgery practice in Bethesda, Maryland.
Podcast Exam
Please
Log in
to take exam and earn CE credit.
More Podcast Episodes You Might Like