Episode:
Faster, Easier, Better: Endo Tips for GPs, From a GP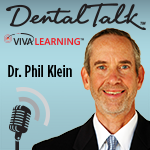 Dental podcast: Welcome to DentalTalk. I'm Dr. Phil Klein. Root canal therapy, for many GPs, is one of the least favorite procedures to do in the office. It is seen as a tedious, stressful and very meticulous procedure, fraught with technical perils that are difficult to recover from. Today we'll be exploring how the combination of making good endodontic technology choices along with good diagnostic and technical knowledge will streamline your endodontic procedures for a successful outcome and increased productivity. Our guest is Dr. Douglas Ness, a General Practitioner with over 30 years of clinical experience. He currently heads a multi-specialty group practice in the San Diego, California area, where a substantial portion of the clinic demand is endodontic services.
Podcast Exam
Please
Log in
to take exam and earn CE credit.
More Podcast Episodes You Might Like