Episode:
Practical Approach to Root Canal Instrumentation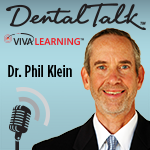 Dental podcast hosted by Dr. Phil Klein: This Viva Podcast will discuss a practical approach to root canal instrumentation. The discussion will address best practices including the use of a new cordless electric handpiece. Our guest is Dr. Aaron Welk, a diplomate of the American Board of Endodontics and a member of a variety of dental associations and societies. He currently has a specialty endodontic practice in the Portland metropolitan area.
Podcast Exam
Please
Log in
to take exam and earn CE credit.
More Podcast Episodes You Might Like