Episode:
Let's talk 3D Imaging - the whys and the hows every dentist should know!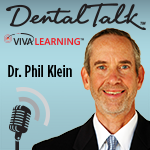 Dental podcast hosted by Dr. Phil Klein: This Viva Podcast will discuss the true benefits of 3D imaging technology in dentistry and learn which factors really influence correct diagnosis. Our guest is Dr. Bruno Azevedo, a diplomate of the American Board of Oral and Maxillofacial Radiology and is one of the most sought out speakers regarding CBCT imaging in North America. He has 17 years' experience working with CBCT imaging which gives him a unique clinical perspective on the use of 3D imaging technologies in dentistry.
Podcast Exam
Please
Log in
to take exam and earn CE credit.
More Podcast Episodes You Might Like