Episode 462:
Lowering the Rates of Oral Cancer - The Role of the Dental Team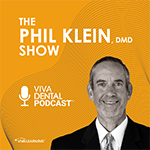 Dental podcast: Welcome to DentalTalk. I'm Dr. Phil Klein. Today we'll be discussing how to spot potentially malignant disorders (PMDs) and how to manage them. The goal is to remove PMDs to prevent transformation into oral squamous cell carcinoma. Our guest is Dr. Ashley Clark, a Board-Certified Oral Pathologist currently serving as the Vice President of CAMP Laboratory after a nearly decade-long career in academia. Dr. Clark has won several teaching awards, has provided over 100 continuing education courses, and has authored more than 40 publications and book chapters.
Podcast Exam
Please
Log in
to take exam and earn CE credit.
More Podcast Episodes You Might Like