Episode:
How to Diagnose Oral Cancer and Premalignant Lesions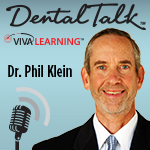 Dental podcast hosted by Dr. Phil Klein: Today we'll be discussing how to diagnose and detect oral cancer and premalignant lesions. Our guest is Dr. Lauren Levi, a dental oncologist and an orofacial pain focused dentist based in New York with extensive experience treating a variety of oral medicine conditions. She is an adjunct clinical assistant professor at NYU College of Dentistry in the department of oral medicine and orofacial pain and a clinical instructor and dental oncology attending at the Icahn School of Medicine at Mount Sinai.
Podcast Exam
Please
Log in
to take exam and earn CE credit.
More Podcast Episodes You Might Like