Episode:
Cancer Screening by the GP: Key Things You Need to Know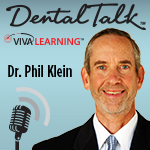 Dental podcast: Welcome to DentalTalk. I'm Dr. Phil Klein. Identifying potentially malignant lesions before transformation into squamous cell carcinoma should be the goal of all oral health care professionals. Today we'll be discussing various lesions in the mouth that could be potentially malignant and also learn about some updates on oral cancer. Our guest is Dr. Ashley Clark, an Associate Professor and Division Chief of Oral Pathology at the University of Kentucky College of Dentistry. She has published over 40 papers and abstracts, authored the oral pathology section of both Dental Decks, and is on the professional board for Digital Dental Notes and Oral Cancer Cause. Her biopsy service offers free biopsy kits to dentists across the country; so if you are interested please contact Dr. Clark at Ashley.Clark.DDS@uky.edu.
Podcast Exam
Please
Log in
to take exam and earn CE credit.
More Podcast Episodes You Might Like