Episode:
Diagnosing Early Stage Oral Cancer: You Can Make a Difference!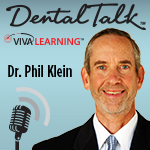 Dental podcast hosted by Dr. Phil Klein: This Viva Podcast will discuss how you can make a difference by diagnosing early stage oral cancer. Our guest is Dr. Robert Convissar, an expert in the field of oral cancer detection and biopsy techniques. He has written numerous publications, lectured internationally, and taught hundreds of dentists how to examine patients for oral cancer, and how to perform biopsies of suspected lesions. Dr. Convissar practices laser, cosmetic and restorative dentistry in New York City and also serves as Director of Laser Dentistry at New York Hospital Medical Center of Queens.
Podcast Exam
Please
Log in
to take exam and earn CE credit.
More Podcast Episodes You Might Like