Episode 190:
Glass Hybrids: The Next Generation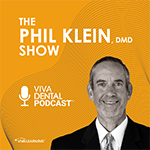 Dental podcast hosted by Dr. Phil Klein: This Viva Podcast will discuss the next generation of glass hybrids. Our guest is Dr. Joshua Austin, who maintains a full time restorative dentistry private practice in San Antonio, Texas. He is an editorial director and columnist for Dental Economics and lectures around the country. His approach to his "Pearls for your Practice" column is a fresh approach in today's commercial driven dental journalism.
Podcast Exam
Please
Log in
to take exam and earn CE credit.
More Podcast Episodes You Might Like