Episode 513:
The Benefits of Bulk Fill Composite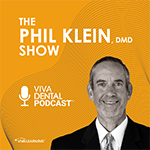 Supporter: Ivoclar
CE Credits: 0.25 CEU
Many of us are using bulk fill composite and universal adhesives for our direct restorative procedures. And our goal, as in any clinical procedure, is to create the best restorations in the most efficient way. And chairside efficiency not only improves the patient experience but also boosts productivity and profitability. Today we'll be discussing efficient esthetics using direct composites. Our guest is Dr. Joshua Austin, who maintains a full time restorative dentistry practice in San Antonio, Texas. He is an editorial director and monthly columnist for Dental Economics magazine focusing on dental products and technology. Dr. Austin also lectures around the country on topics such as digital marketing and mental health.
Podcast Exam
Please
Log in
to take exam and earn CE credit.
More Podcast Episodes You Might Like