Episode 400:
Why It's Important for Dentists to Pay Attention to Physical Properties and Testing Methodology of Dental Ceramics (ISO Standards)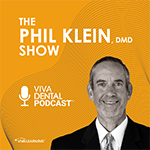 Supporter: Ivoclar
CE Credits: 0.25 CEU
Dental podcast: Welcome to DentalTalk. I'm Dr. Phil Klein. Today we'll be discussing ways to insure our clinical success by using dental materials that give us the best results. In order to do this we really need to have some understanding of what ISO is and how their recommendations affect how our products are tested and the claims made by the manufacturers. We should understand the basics behind flexural strength v. fracture toughness, testing methodology and utilizing data to make the right material selection for our restorative cases. To help make this all relevant to the dental clinician, I am pleased to welcome our guest, Dr. Jason A. Griggs.
Podcast Exam
Please
Log in
to take exam and earn CE credit.
More Podcast Episodes You Might Like