Episode 219:
Strategies for Success: Are You Ready for the New Norm?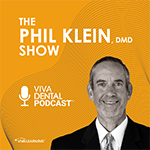 Supporter: Ivoclar
CE Credits: 0.5 CEU
Dental podcast hosted by Dr. Phil Klein: Leading your business through COVID-19 has created many challenges - and with every challenge comes opportunity. Today we'll be discussing what we can do now and how we can successfully plan for the re-opening of our practices. Our guest is Dr. Nada Albatish, who owns and operates a multidisciplinary practice, All Smiles Dental Centre, just north of Toronto. She has co-authored a book and various journal articles, and speaks at various dental events. Today Dr. Nada Albatish will share her approach and thought process on the "new patient experience." We will explore how she and her team plan to treat and communicate with patients moving forward.
Podcast Exam
Please
Log in
to take exam and earn CE credit.
More Podcast Episodes You Might Like