Episode 169:
Cementation Strategies for Zirconia Oxide Restorations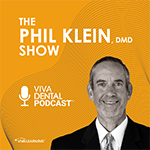 Supporter: Ivoclar
CE Credits: 0.25 CEU
Dental podcast hosted by Dr. Phil Klein: This Viva Podcast will discuss cementation strategies for zirconia oxide restorations. Our guest is Dr. Michael DiTolla, a lecturer and columnist with an expertise in restorative dentistry techniques. He is the former Director of Clinical Research and Education at Glidewell Labs and currently is the VP of Clinical affairs at Aegis Communications.
Podcast Exam
Please
Log in
to take exam and earn CE credit.
More Podcast Episodes You Might Like