Episode 441:
Cement Protocols for Predictable Outcomes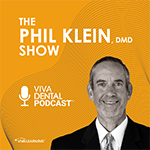 Supporter: Ivoclar
CE Credits: 0.25 CEU
Dental podcast: Welcome to DentalTalk. I'm Dr. Phil Klein. Today we'll be discussing the frightening parts of cementation and bonding as well as some important clinical tricks that can help us make everything more predictable and successful. Our guest is Dr. James Klim, an internationally recognized speaker, author and educator of bio-functional and aesthetic CAD/CAM dentistry. Currently, Dr. Klim has a full-time restorative practice in Santa Rosa, California, is founder and director of the Klim Institute (CAD/CAM training center), and directs the Klim Institute online CEREC training CADStar.tv
Podcast Exam
Please
Log in
to take exam and earn CE credit.
More Podcast Episodes You Might Like