Episode 171:
The Newest Innovation in LED Technology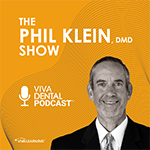 Supporter: Ivoclar
CE Credits: 0.25 CEU
Dental podcast hosted by Dr. Phil Klein: This Viva Podcast will discuss the newest innovation in LED technology. Our guest is Dr. Jason Olitsky, who maintains a private practice with his wife and dental partner, Colleen in Ponte Vedra Beach, Florida. He publishes on various topics of cosmetic dentistry, has appeared in numerous national beauty and health magazines and serves as product consultant for dental product companies.
Podcast Exam
Please
Log in
to take exam and earn CE credit.
More Podcast Episodes You Might Like