Episode 3:
Cementation and Interface Management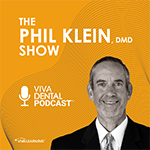 Supporter: Ivoclar
CE Credits: 0.25 CEU
Dental podcast hosted by Dr. Phil Klein: Cementation is a big part of the restorative process. Dr. Jason Olitsky discusses his preferred type of cementation, the different approaches when using lithium disilicate vs. zirconia, and how to simplify the adhesive cementation process.
Podcast Exam
Please
Log in
to take exam and earn CE credit.
More Podcast Episodes You Might Like