Episode 357:
Efficient Esthetics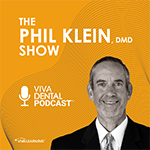 Supporter: Ivoclar
CE Credits: 0.25 CEU
Dental podcast: Welcome to DentalTalk. I'm Dr. Phil Klein. In this podcast we'll be talking about efficient esthetics. So let's ask ourselves, are we, as clinicians, as efficient as we can be and are we as esthetic as we can be? Are patients raving about us or calling our office complaining of tooth sensitivity or maybe just not thrilled with their newly restored teeth? Today we'll be discussing how you and your team can grow your skills, boost your production and at the same time maintain a practice full of very satifisfied patients. Our guest is Dr. David Rice, Founder of the nation's largest student and new dentist community, igniteDDS.
Podcast Exam
Please
Log in
to take exam and earn CE credit.
More Podcast Episodes You Might Like