Episode 294:
Jump Start Your Adult Preventive Care Program: Communicating the Right Message is Key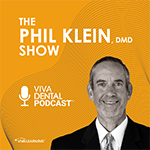 Supporter: Centrix
CE Credits: 0.25 CEU
Dental podcast: Welcome to DentalTalk. I'm Dr. Phil Klein. Today we'll be discussing why dental hygiene is a critical component to any successful practice. This includes identifying dental disease and providing the appropriate treatment. In addition, we must continually maintain our patients' oral health through quality preventive care, and this applies to children, adolescents and adults. Sometimes it gets a little challenging with adults as there is often no insurance coverage for these kinds of procedures. Our guest is Cathy Cabanzon, a Registered Dental Hygienist and educational consultant and speaker for Orapharma Inc., Dental Products Shopper and Centrix. She has an extensive background in the profession of dental hygiene in the clinical setting, both in general and periodontal practices. She is also a dental hygiene clinical adjunct professor and practice management consultant.
Podcast Exam
Please
Log in
to take exam and earn CE credit.
More Podcast Episodes You Might Like