Episode 447:
Secondary Caries: We All See Them, How Do We Shortcut Their Occurrence?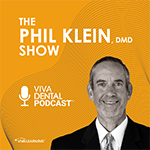 Supporter: Centrix
CE Credits: 0.25 CEU
Dental podcast: Welcome to DentalTalk. I'm Dr. Phil Klein. Today we'll be addressing the controversial question, "When we restore teeth due to caries, is it appropriate as the final step in the restorative procedure to apply a fluoride varnish?" We will explore the thinking behind this question and how it relates to the prevention of secondary caries. Our guest is Dr. Jean Creasey, a former dental hygienist who found success in dental practice by focusing on prevention first. She currently teaches Ethics and Professionalism at California's newest dental school, California Northstate College of Dental Medicine.
Podcast Exam
Please
Log in
to take exam and earn CE credit.
More Podcast Episodes You Might Like