Episode 355:
Whether it's Analog or Digital Impressioning - The Secret is Soft Tissue Management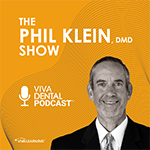 Supporter: Centrix
CE Credits: 0.25 CEU
Dental podcast: Welcome to DentalTalk. I'm Dr. Phil Klein. Today we'll be discussing the secret to achieving consistently good impressions using traditional or digital techniques. Our guest, joining us from Romania, is Dr. Marian Fanica, an international lecturer and hands-on dental trainer in Europe and Asia. Also joining us is Dr. Christian Enachescu. Dr. Enachescu practices with Dr Fanica and focuses on implant dentistry and prosthodontics.
Podcast Exam
Please
Log in
to take exam and earn CE credit.
More Podcast Episodes You Might Like