Episode 321:
Changing Office Protocols to Integrate Prevention and Fluoride for Every Patient, Adult and Child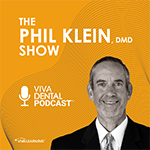 Supporter: Centrix
CE Credits: 0.25 CEU
Dental podcast: Welcome to DentalTalk. I'm Dr. Phil Klein. Today we'll be discussing the rationale behind changing office protocols to integrate prevention and fluoride for every patient, adult and child. Our guest is Cathy Cabanzon, a Registered Dental Hygientist and educational consultant and speaker for Orapharma Inc., Dental Products Shopper and Centrix. She has an extensive background in the profession of dental hygiene including clinical hygiene in general and periodontal practices, community health program development, grant writing. She also is a dental hygiene clinical adjunct professor and practice management consultant.
Podcast Exam
Please
Log in
to take exam and earn CE credit.
More Podcast Episodes You Might Like