Episode 238:
Prevention for Life: Understanding the latest in Caries Prevention and Minimally-Invasive Dentistry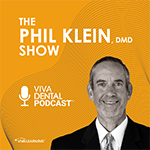 Supporter: Centrix
CE Credits: 0.5 CEU
Dental podcast hosted by Dr. Phil Klein: This Viva Podcast will discuss the latest in caries prevention and minimally-invasive dentistry. Our guest is Dr. Jean Creasey, a dentist who first practiced as a dental hygienist. As a hygienist she coordinated a school-based dental prevention program for her rural Northern California county. Later, she earned a DDS from UCSF and studied cariology under Dr. John Featherstone, who introduced her to Caries Management by Risk Assessment (CAMBRA). Dr. Creasey has been utilizing CAMBRA principles in private practice for 20 years and lectures regularly on the win/win of a prevention centered practice. She now teaches part time at the University of Pacific-Dugoni School of Dentistry.
Podcast Exam
Please
Log in
to take exam and earn CE credit.
More Podcast Episodes You Might Like