Episode 349:
Let's Talk Beautiful Temporaries that Prepare Your Patients for Beautiful Final Restorations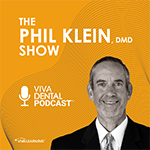 Supporter: Centrix
CE Credits: 0.25 CEU
Dental podcast: Welcome to DentalTalk. I'm Dr. Phil Klein. Today we'll be discussing temporaries; the different benefits they provide as well as the patient's needs that a temporary must address. Our guest is Dr. Marian Fanica, an international lecturer and hands-on dental trainer in Europe and Asia.
Podcast Exam
Please
Log in
to take exam and earn CE credit.
More Podcast Episodes You Might Like