Episode 278:
Conventional vs. Adhesive Resin Cementation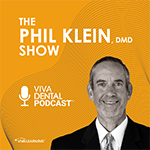 Supporter: Bisco
CE Credits: 0.25 CEU
Dental podcast: Welcome to DentalTalk. I'm Dr. Phil Klein. Today we'll be discussing the benefits of conventional cementation versus adhesive resin cementation. Our guest is Dr. Thomas Dudney, clinical director of the Pacific Aesthetic Continuum (PAC) hands-on programs. In addition to teaching hands-on programs, he has presented workshops and lectures at dental meetings and has authored several articles on aesthetic and restorative dentistry.
Podcast Exam
Please
Log in
to take exam and earn CE credit.
More Podcast Episodes You Might Like