Episode 390:
Tackling Periodontal Disease Before The Damage is Done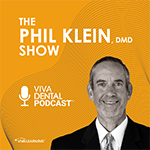 Dental podcast: Welcome to DentalTalk. I'm Dr. Phil Klein. Today we'll be discussing how to tackle Periodontal disease before it gets out of hand. We'll be discussing how to accelerate periodontal case acceptance, improve patient outcomes, and increase our overall confidence in treating periodontal disease. Our guest is Amber Auger, a practicing dental hygienist, consultant and international speaker.
Podcast Exam
Please
Log in
to take exam and earn CE credit.
More Podcast Episodes You Might Like