Episode 475:
Streamlining the Everyday Dentistry to Make Way for Success Every Day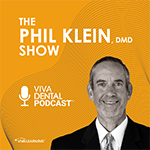 Dental podcast: Welcome to DentalTalk. I'm Dr. Phil Klein. It's no secret to any of us listening to this podcast that costs are up and reimbursements haven't kept up and in some cases theyre going down. Inflation, supply chain issues, and short staffing have made it harder than ever to be profitable. So in light of all this, it's important that we work efficiently. Today we'll be discussing strategies to increase our efficiency and keep costs down without sacrificing quality. Our guest is Dr. Joshua Austin, who maintains a full time restorative dentistry practice in San Antonio, Texas. He is an editorial director and monthly columnist for Dental Economics magazine focusing on dental products and technology.
Podcast Exam
Please
Log in
to take exam and earn CE credit.
More Podcast Episodes You Might Like