Episode 382:
No More Dentist Stress With Class 2 Restorations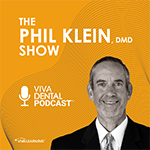 Dental podcast: Welcome to DentalTalk. I'm Dr. Phil Klein. When it comes to Class 2 restorations, we all, at one time or another, face the bad and the ugly. I'm talking about inadequate contacts, open proximal boxes, sensitivity and insufficient anatomy to name a few. So let's avoid these pitfalls and reduce our personal stress when doing class 2 restorations. To tell us more about it, is our guest Dr. Susan McMahon. She runs one of the largest cosmetic dental practices in Western Pennsylvania. An author and lecturer, Dr. McMahon has devoted her professional career to the pursuit of advanced technologies in cosmetic and minimally invasive dentistry.
Podcast Exam
Please
Log in
to take exam and earn CE credit.
More Podcast Episodes You Might Like