Episode 404:
Prevention-Centered Success: A Win for the Dental Team, the Patient and the Practice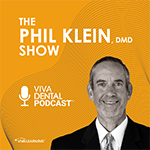 Supporter: Centrix
CE Credits: 0.25 CEU
Dental podcast: Welcome to DentalTalk. I'm Dr. Phil Klein. Todays' dental patients are hungry for prevention strategies that work and lead to less need for restorative care. Long gone are the days when dental practices focused solely on the challenge of restoring decayed dentition. Today we'll be discussing how utilizing a caries risk assessment strategy for preventing or reversing early-stage dental caries is evidence-based and creates a win/win for patients and the dental practice alike.
Podcast Exam
Please
Log in
to take exam and earn CE credit.
More Podcast Episodes You Might Like