Episode 16:
HIPAA Compliance and Risk Assessment: What is a HIPAA Compliant Backup and How is it Set Up?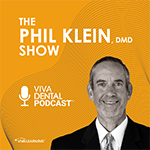 Dental podcast hosted by Dr. Phil Klein: On other VivaPodcasts, we've talked about HIPAA compliance. Today we will specifically answer the question, What is a HIPAA compliant backup and how do I set that up? We're talking to someone who certainly knows a lot about this subject. Dr. Lorne Lavine, a periodontist, is here to share with us his wisdom. He is President and CEO of the digital dentist. Check out Dr. Lavine's blog:
www.thedigitaldentist.com
.
Podcast Exam
Please
Log in
to take exam and earn CE credit.
More Podcast Episodes You Might Like