Episode 318:
Do-It-Yourself Clear Aligner Orthodontic Revolution: What you need to Know to Compete and Thrive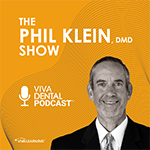 Dental podcast: Welcome to DentalTalk. I'm Dr. Phil Klein. Today we'll be discussing the fast growing Do-It-Yourself Clear Aligner Orthodontic Revolution and pose the question, does this treatment really work. We'll also discuss strategies on how a General Dentist can benefit from the huge amount of direct-to-consumer marketing dollars that are being spent in this area. Our guest is Dr. Barry Winnick, a practicing general dentist for over 35 years. He has treated over 1,400 fixed orthodontic cases and over 500 Invisalign cases. As a member of the European Aligner Society, Dr. Winnick attends international meetings keeping up to date with all the latest Clear Aligner Treatment research and clinical presentations.
Podcast Exam
Please
Log in
to take exam and earn CE credit.
More Podcast Episodes You Might Like