Episode 14:
HIPAA Compliance and Risk Assessment: What Is a Risk Assessment and Why Is It Important?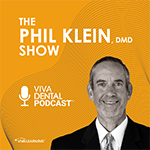 Dental podcast hosted by Dr. Phil Klein: We have all heard the term: Risk Assessment. This VivaPodcast will address Risk Assessment as it relates to the confidential patient information that sits on your computers and servers in your dental practice. We're talking with an expert on this topic, Dr. Lorne Lavine, a Periodontist and President and CEO of the Digital Dentist. Check out Dr. Lavine's blog:
www.thedigitaldentist.com
.
Podcast Exam
Please
Log in
to take exam and earn CE credit.
More Podcast Episodes You Might Like