Episode 13:
Cybersecurity: What Steps You Need to Take If You Become Aware of a Data Breach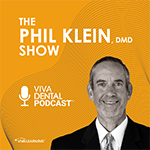 Dental podcast hosted by Dr. Phil Klein: Dr. Lorne Lavine is President and CEO of the Digital Dentist and he will be talking about cybersecurity, specifically what steps you need to take if you become aware of a data breach. Check out Dr. Lavine's blog:
www.thedigitaldentist.com
.
Podcast Exam
Please
Log in
to take exam and earn CE credit.
More Podcast Episodes You Might Like