Episode 143:
Cementing Indirect Restorations with Confidence and Peace-of-Mind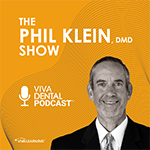 Dental podcast hosted by Dr. Phil Klein: This Viva Podcast will address the question, Are there any universal dual-cure adhesive luting cementation systems that provide natural esthetics and high bonding strength for your indirect restorations? In this episode, Our guest, Dr. Miles Cone will help us better understand. Dr. Cone is one of only two prosthodontists in the entirety of New England to have obtained additional qualifications as a Certified Dental Technician. He owns a private practice and is Editor in Chief for the Messenger, a quarterly publication by the American College of Prosthodontists.
Podcast Exam
Please
Log in
to take exam and earn CE credit.
More Podcast Episodes You Might Like