Episode 421:
Restorative Dentistry Made Simpler with Adaptive Shade Matching Technology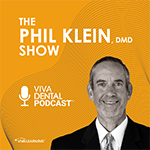 Dental podcast: Welcome to DentalTalk. I'm Dr. Phil Klein. In this podcast we'll be discussing Universal composites with Adaptive Shade Matching capability. We'll get some insight into how you can leverage these materials to help increase productivity, while carrying less product inventory. Our guest is Dr. Robert Marus, a practicing cosmetic dentist in Yardley, Pennsylvania. A member of the American Academy of Cosmetic Dentistry, Dr Marus currently lectures on cosmetic dentistry and has written articles on his smile makeover techniques, many of which have been featured in numerous national and international publications.
Podcast Exam
Please
Log in
to take exam and earn CE credit.
More Podcast Episodes You Might Like